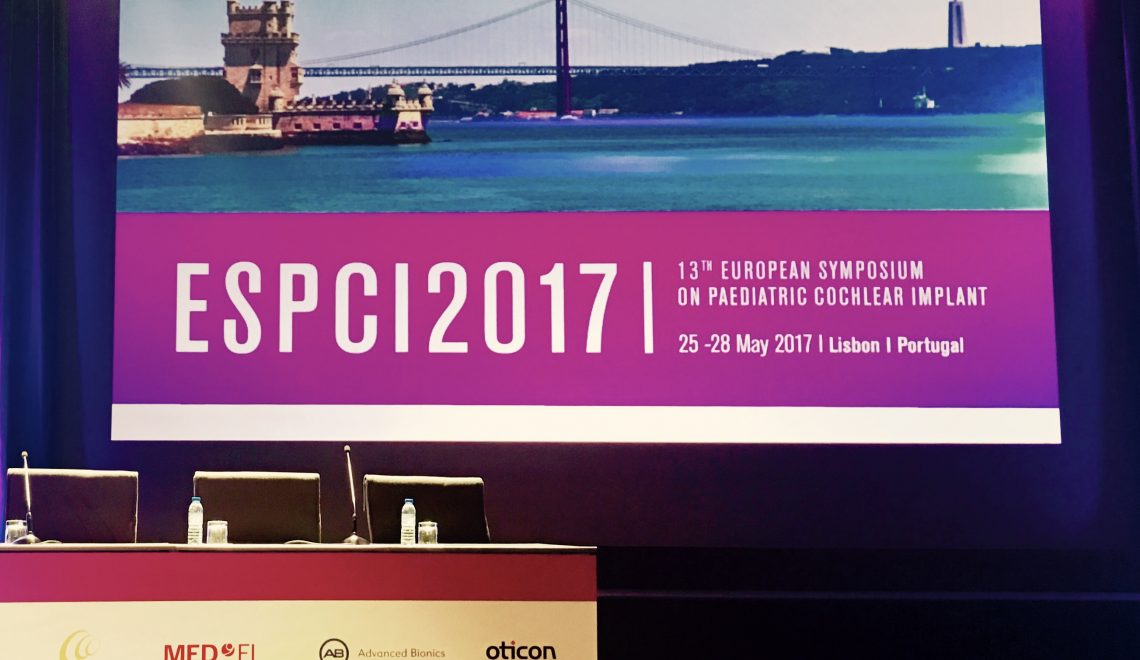 From Lisbon –  Last Sunday was the final day of the 13th European Symposium on Pediatric Cochlear Implant (ESCPI 2017).  Day 1 was divided in four sessions and so Cochlear, MED-EL, Advanced Bionics and Oticon Medical had the opportunity to talk directly to the the public.
Normally those presentations have a more promotional approach, with images and words calibrated by marketing departments eager to convince the audience of doctors and audiologists that their products are the best of all times. It´s also during those events that companies launch new models, accessories and features. I´ll try to sum up what they have showed us.
Cochlear
The Australian market leader and pioneer in the technology of implants didn´t have a new CI model to present in Lisbon, perhaps for the proximity to the Alliance Symposium, to be held in late July in San Francisco. It´s expected that in California they will announce a new processor: Nucleus 7. The model will have Bluetooth technology, which will allow the implants to pair directly to mobile phones, computers and other devices, eliminating the need for intermediate devices (such as PhoneClip). The innovative technology may also connect implants to the internet through smartphones, what will possibly allow remote software upgrading and mapping.
Another announcement that went unnoticed by most of the presents was the agreement between the company and Otoconsult, from the Belgian surgeon Paul Govaerts. The deal provides Cochlear the right of use and distribution of FOX (Fitting the Outcomes eXperts) software, based on artificial intelligence. It may help optimize and automate mappings. Nowadays they rely on a great amount of subjectivity and may need many consultations with the audiologist to find the best fit.
Both announcements point to a close future, when the CI will no longer be just a hearing device. It´s certainly a game change from Cochlear.
MED-EL
The Austrian company did not bring a new model of CI to Lisbon either. Instead, it announced its new programming software, MAESTRO 7, which simplifies the previous version.
Although it´s old news, MED-EL sustained the advantages of Synchrony implant model, which is compatible with magnetic resonance imaging up to 3 T, an exclusivity among all manufacturers.
They also announced their most important device, officially launched at an event in Santiago last April: the ADHEAR. It is a bone conduction system, to be used for almost the same indications as BoneBridge, BAHA and Sophono. But differently, ADHEAR don´t need be implanted, avoiding surgery. It´s made to stuck behind the ear by a simple adhesive. Its indications are also a little more restricted and its actual application must be tested, in real life, over time.
Advanced Bionics (AB)
After being acquired by Sonova Group in 2009, AB established itself as the company with the most complete portfolio of hearing solutions, thanks to the partnership with Phonak. After launching in 2016 the first hearing aid that works side by side with a cochlear implant, AB just took a step forward.
AB announced the Naida Link CROS. It is a small transmitter (like a regular hearing aid) to be used on the non-implanted side of unilateral CI recipients. In that manner, the CROS works as a simple audio transmitter to the cochlear implant, allowing the person to hear sounds coming from all directions. The aim is to eliminate the so-called head-shadow effect.
The launch of the CROS system for implants is a courageous move from AB, because some patients may decline the bilateral implantation.
Oticon Medical
The most exciting news came from the company with smallest market share.  Oticon Medical was the only to launch a new sound processor at the Lisbon event. The Neuro Two is the second generation of processors to be launched after the acquisition and consequent change of company name (from Neurelec to Oticon Medical).
The device has an extremely attractive design, composed by an incredibly thin cable, which attaches the antenna to the processor. According to the company, the cable is virtually unbreakable. Neuro Two can be used in conjunction with a Oticon hearing aid on the contralateral ear, consolidating the trend initiated in 2016, by AB.
The implant itself, called Neuro Zti and already in use, is as attractive as the new processor. It´s thin, small and has two screws which facilitate its fixing.
Like every new model, Neuro Two will have to show its quality in real life. Let's wait for the patient's feedback.
Hearing preservation
Following the trend from the last conferences, hearing preservation remained a main subject in many roundtables of Lisbon event. The trend to implant people with higher levels of residual hearing has been directing researchers and companies to develop techniques and devices that cause less trauma for endo-cochlear structures.
Longer follow-ups from patients whose residual hearing had been preserved right after surgery have shown that some of them might lose it over time. With this feedback, the current objective is to use thin and less traumatic electrodes, but with good cochlear coverage. This may allow reprogramming the implant if the patient loses residual hearing afterwards, with no need for a second surgery to change the device.
Unilateral hearing loss
Unilateral deafness is one of the new frontiers when it comes to cochlear implant indications. Several people hear normally in one ear, but are deaf on the other side. Historically, most of them just adapt their routine and search for no treatment. However, a number of patients feel disabled and end up with a CROS hearing aid, which route the sound that arrives in the deaf ear to the hearing one. Others are treated with bone-anchored implant, such as BAHA.
A few years ago, some surgeons started to investigate the use of cochlear implants for unilateral deafness. The CI is the only option to restore real bilateral hearing. Specially if we consider the neural aspects of hearing loss in one ear. It has been demonstrated that unilateral hearing loss leads to changes in the architecture of auditory pathways. However, there is still a lack of evidence on the ability of cochlear implants preventing those changes. Furthermore, cochlear implants need a surgery, with its natural risks. Also, their use requires that the patient invest time and money in mappings and rehabilitation. Implanted patients also have a relative contraindication to perform MRI, a very important diagnostic tool nowadays.
All this considered, it's still very controversial to consider unilateral deafness an indication for cochlear implants.
Hearing Regeneration
I just read an article on Facebook about the "death of smartphones." The author argued that screens and all data processing and memory sooner would be integrated into our bodies, our sight and hearing, and finally to our brains.
My very first thought was the possible death of cochlear implants. It seems obvious that every electronic device – the more technological and high end it can be – is doomed to extinction and replacement by an even more efficient tool.
One of the biggest expectations in hearing rehabilitation domain is the real cure for deafness.  Although this is the future, it is unlikely that it will happen in the next 10 or 15 years. Some studies presented in Lisbon have indicated that sooner than we think we're going to watch cochlear implants with drug delivery systems, using substances able to reduce trauma and optimize its hearing outcomes.
Final Balance
The scientific level of the symposium was bellow my expectations, in comparison with its previous editions; maybe because of the proximity to the GICCA – that took place just a month ago in Santiago – as well as the Alliance event, to be held in the US next July. That may have contributed to this feeling, as a small number of American speakers and attendants were present in Lisbon. Nevertheless, Lisbon offered the latest news from the cochlear implant world.
And let us fly to San Francisco…